Splendid Hartland Books
Since 1983
Hartland books by Gail Fitch
"The Best Source of Hartland Information™"
(According to a Former owner of Hartland)
For 35 years, publications by Gail Fitch have captured Hartland horses,
horse-and-rider sets, and company history.

A quality brand of models / toys / figurines

Hartland is the brand name of decorative, plastic products that originated in the 1940s with Hartland Plastics, Inc., of Hartland, Wisconsin. It is most famous for its high-quality model horses, horse-and-rider sets, and ballplayer figurines. After the 1960s, the brand continued under other ownership.

Hartland ranks second only to Breyer in the quantity of rigid-plastic model horses produced since the 1940s. Breyer's first horse was a copy of a 1940s Hartland horse! In the 1950s, Hartland produced horse-and-rider sets in the likeness of dozens of TV western and historical heroes. In the 1960s, it issued individual horses and horse families. Later Hartland companies released some of the horse models in additional colors, but few of the rider sets. Hartland is complicated because six different companies have made Hartland horses over a period of seven decades!

In quality, some collectors rank Hartland first. Its main horse sculptor actually won awards -- in national contests. Hartland's technical processes were different from others' and allowed a finer level of sculpted detail to be reproduced. Many collectors prefer Hartland's typical light-gloss or semi-gloss finishes over the matte finishes common to most other brands of horses. As one collector (T.H.) said, "They're prettier." And, for horse-and-rider sets, no company comes close.

Books: Three Hartland books from Schiffer Publishing

Learn about this important brand of beautifully painted and sculpted horses -- and riders -- in the set of three Hartland books by Gail Fitch, from Schiffer Publishing -- with color photos, history, and values! Each book covers different models!

Hartland Horsemen (1999)
Horse-and-rider sets, 1940s -- 1999.

Hartland Horses and Dogs (2000)
Horses and dogs, 1950s -- 2000. Includes the detailed story of the Hartland companies, 1930s -- 2000.

Hartland Horses: New Model Horses Since 2000 (2012)
Horses and horse-and-rider items produced or sold in 2000-2007. Includes regular-run, special run, and gift-run (contest) models, Roy Rogers and Dale Evans sets, and many unique, test models!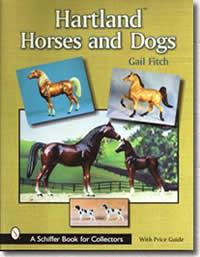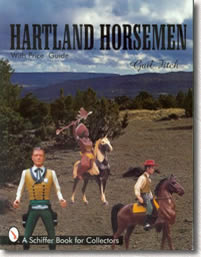 "A fabulous book" "Visually arresting"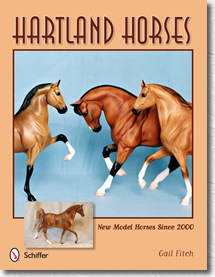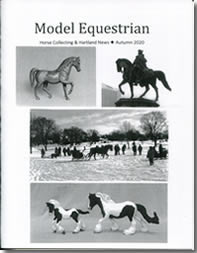 "The elite model horse" Autumn 2020
Model Equestrian magazine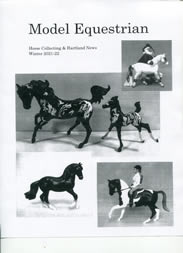 Model Equestrian magazine
Winter 2021-22


Buy from the author -- The three Hartland books published by Schiffer are available from booksellers everywhere, but when you buy them from me, I (1) will sign and number each book, (2) can write, "To ----" [fill in the name], and (3) will enclose a quick index- outline-update sheet.

Prices -- Each book is $26 by PayPal or $25 by personal check or money order.
Prices include shipping.

Model Equestrian: A printed magazine

The latest issue of Model Equestrian: Horse Collecting & Hartland News, Summer 2019 (above, right) is 20 pages of news, features, reviews, discussion, tips, history, and more for model horse hobbyists, Hartland collectors, TV western fans, and horse lovers.
You can order back issues, too.
Send an email to gfitch@tds.net to always be notified of the next issue.

How to order publications

To use PayPal, go to Catalog page.
To send a check or money order, print out the Order Form Page (or send a note), and mail it with payment to:

Gail Fitch Contact me at: gfitch@tds.net
1733 N. Cambridge Ave., #109 That is also the email address if using PayPal.
Milwaukee, WI 53202