Three Titles of Hartland books
Led Up to the Books from Schiffer Publishing






Hartland Books by Gail Fitch, 1983-1998
All of the Hartland books I self-published in 1983-1998 were, in effect, replaced by the 1999 and 2000 Hartland books from Schiffer Publishing, Hartland Horsemen and Hartland Horses and Dogs, respectively.

The 1983-1998 books were copyright-registered in Washington, D.C. I have a record of who bought them. All but a few were signed and numbered, and I can recognize the unsigned ones. I still sign and number the books even though they are mass produced.

- - Gail Fitch, October 21, 2005; revised June 21 & 24, 2015.


Hartland Horsemen & Gunfighters/Hartland Models, Vol. 1 (1998)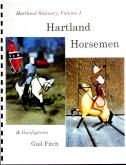 by Gail Fitch. Horse-and-rider sets, values, and company history; 126 pages, 121 color photos, 119 b/w photos. The 1998 book changed to a vertical format, still with spiral binding. One edition: March 1998.

This book replaced the "horse-and-rider set" portion of my 1983-1995 books, Hartland Horses and Riders. It is the first book that included values. For rider sets, a "three-dimensional" table makes it easy to find values based on the condition, scarcity, and completeness of the sets.

Other new features are tables of dates, copyright marks, and sculptor for each of the riders, and a list of catalogs, ads, and archive photos that help date the models. (The table of models, actors, and TV shows first appeared in 1983 in Hartland Horses and Riders.)