News - 2007
The Last Word for 2007

Hartland Collectibles announced a new horse on December 21, 2007: a 9" series Semi-Rearing chocolate bay with a saddle for $45 and $9.95 shipping.
Only 20 will be made.

Model horse web sites to check for new releases include: hartlandcollectibles.com,
BreyerHorses.com,
stonehorses com, and
TrailofPaintedPonies.com.

--December 30, 2007; Happy New Year!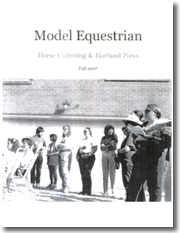 The Fall 2007 issue of Model Equestrian: Horse Collecting and Hartland News was published November 16. This issue is 28 pages, with tributes to John Henry (2 pages), Marguerite Henry (3 pages), and Marney Walerius (3 pages).

Hartland topics include: how many 1994 Hartland Chief Thunderbird sets were made, custom jockey and western character sets, and unknown Steven Hartland pieces to be sold soon by a private individual.

Price: $6.50 postpaid.
All back issues are available, too.
Gail Fitch,
1733 N. Cambridge Ave., #109,
Milwaukee, WI 53202

Check or PayPal (gfitch AT tds.net)
Custom Artist Takes Orders

Three Hartland custom gunfighters by artist Buzz Setzer sold for over $400 each on eBay in June 2007. He also created a portrait model of the 2007 Kentucky Derby Winner, Street Sense, and his jockey, and said he said he can "take orders for copying all sorts of jockey silks."

Article and pictures are in the Fall 2007 Model Equestrian.
--November 22, 2007

Nov. 28, 2008--While the substantive news and features are in MODEL EQUESTRIAN, I am happy to post some event announcements here.

The Peter Stone Company's model horse warehouse sale is December 1-2, 2007, in Shipshewana, Indiana. For details, email customerservice@shipshenet.com

December 8, 2007, in northern Illinois, a model horse distributor is holding a party, and purchases can be made. Find out more at www.greatlakescongress.com

Equine Affaire horse expos with a horse-related trade show, seminars, demonstrations, and clinics will be:
Jan.31-Feb. 3, 2008 in Pomona, Calif.
April 10-13, 2008 in Columbus, Ohio
Nov. 13-16, 2008 in West Springfield, Mass.